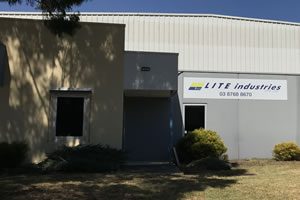 LITE industries is an aluminium fabrication company with it's own specialised extrusions, making a range of high quality aluminium products.
Based in Dandenong, Victoria, Australia, LITE industries supplies customers throughout Australia, New Zealand, Europe, United Kingdom and Ireland.
LITE Guard Trench Shoring
An ultra light shoring system, developed to suit mini excavators, which can be easily transported and assembled.
Ideal for Plumbers, Drainers, Civil Contractors, Sub-Division Contractors, Pipe Layers, Cemetery workers and all below ground workers requiring shoring.
Standard Trench Shoring Boxes
Super and Super Size Trench Shoring Boxes
Manhole Boxes
Soldier Sets
Trench Bridges – Walkways
Davit Arms
Access Gantries
Clip on Hand Rails and Access Platforms
LITE Grave Shoring Systems
Certified by a qualified Engineer and meeting the safety requirements of AS 4744.1-2000 (Australian Standard for Trench Shoring), the LITE Guard grave shoring systems include:
Cemetery Shoring
Box Section Shoring
Bolt Together Box Shoring
Safety Lids and Decking
End Panels
Multi-Cultural Shoring